BUSINESS RESOURCES
Advice for any stage of your business
Tools and resources to support your strategy and growth
You're busy doing what you do best—building your business. That's why we have the resources and tools you need for every stage of your entrepreneurial journey—whether it's bringing your newest idea to life, seeking strategic direction for growth or moving on to your next great adventure.
Your go-to guide
Embrace entrepreneurship confidently, knowing that every step to starting your own business is covered in The ATB Entrepreneur's Guide to Starting a Business. Turn your great ideas into a fully-fledged business with insights from subject matter experts, experienced entrepreneurs and some of the leading business minds at ATB found in our free downloadable guide.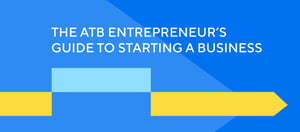 Grow your business, your way
Starting a business
Every great business starts as an idea. Whatever your idea is, turn it into a thriving startup with our resources for ideation and startup stage businesses.
Growing your business
Growing a business can be hard when you're running a business, too. Let us curb the complexity with advice on hiring, cashflow, marketing and strategic thinking for growth stage businesses.
Running your business
Focusing on your long term business goals and profit margins? We have insight into emerging trends and business changes to help you stay up to date on industry-specific information.
Succession planning
Ready to transition to the next stage of your life? Let's get it done on your terms and make sure your business ends up in capable hands.