Regardless of what kind of business you're starting, how big you dream of growing, or which sector you're serving, set yourself up for success by assembling a team of advisors who are committed to your vision and whom you can trust to give you prudent advice is key to the success of your business. You'll want to start by finding a lawyer, an accountant and a banker.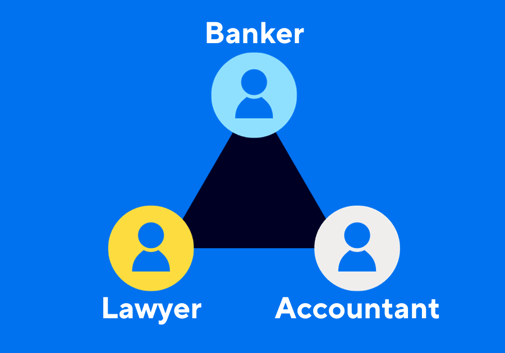 When choosing experts to include in your team, look for certified professionals with experience in your industry as well as with businesses of your size. Ask your network for recommendations, or contact a local industry association and ask for a list of recommended professionals with a proven track record. Sure, your friend might be a lawyer—but their family law practice probably won't be able to meet your corporate needs. Likewise, the accountant you bowl with might have experience with larger businesses, but not specifically with startups. When seeking out the right advisors, it's important that they understand your needs now, as well as what your needs might look like in the future as you grow.
Why do I need a lawyer?
Your legal advisor is a crucial member of your team, just as important as your banker and your accountant. Whether you want to expand, consolidate, export, import, hire or fire, legal ramifications and protocols will dictate what you do and how you do it.
It's wise to leverage a lawyer's guidance and expertise before you even open your doors. An established relationship with a lawyer is particularly important if your business is structured as a partnership, LLC or corporation. (If you haven't decided which business structure you're going to move forward with, here is an overview of your options.) Your legal advisor can draft articles of incorporation, contracts, partnership agreements and other necessary documents.
A lawyer will also make sure your assets and intellectual property are protected. If you need to apply for a patent, a trademark registration or copyright, they will manage filing and updating the documentation.
Moving into a new brick and mortar location? Your lawyer can also look over your commercial lease or purchase agreements to confirm all articles are in order.
Considering provincial and federal legislation is always critical to ensuring you abide by the rule of law, but this is particularly important when it comes to employment contracts. There may be aspects of your business—beyond basic employer and employee responsibilities—that you need to include in an employment agreement, such as proprietary non-disclosure or non-compete clauses, which can be drafted by your chosen legal professional.
The size and nature of your business will determine how often you need to consult your lawyer; you may need to meet with them once a year—or once a week. By building a relationship with a legal advisor, you're securing the knowledge and expertise to ensure the business you're building is protected and your interests are looked out for.